General Single-Trip Permits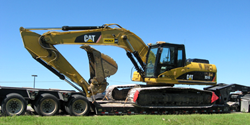 TxDMV issues a single-trip permit for the movement of non-divisible vehicles and/or loads exceeding legal Texas size and weight limits up to 254,300 pounds. Single-trip permits may only be used for one movement, during the times specified on the permit, from a specific point of origin to a specific destination. There are special requirements for single-trip manufactured housing and portable building permits.

Vehicles and loads exceeding the following dimensions must have a Route Inspection Certification on file prior to permit issuance.
Width – 20'
Height – 18'11"
Length – 125'
A Super Heavy Single-Trip Permit is available for the movement of vehicles and loads that exceed 254,300 pounds total gross weight, exceed the maximum permit weights on any axle or axle group or exceed 200,000 pounds with less than 95 feet of axle spacing.
Single-Trip Manufactured Housing Permit
Portable Building Single-Trip Permit
More Information
General escort and equipment requirements apply to both permitted vehicles and escort vehicles.
Hauling more than one item may not cause nor increase a dimension or weight that exceeds Texas legal size and weight limits. For example, 10' wide steel plates may be stacked provided the overall height does not exceed 14' and the weight does not exceed legal axle or gross weight limits.
Review your permit for specific conditions that apply to your load and movement