Dealer License Plates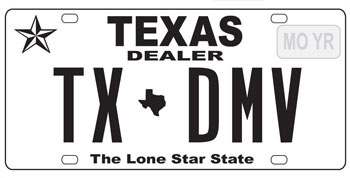 Franchised (new) and Independent (used) motor vehicle dealers are eligible to buy and use metal dealer plates. The number of dealer plates that may be purchased depends on the number of sales and license type.
Motor vehicle dealers may apply for metal dealer's license plates for all vehicle types the dealer is licensed to sell and may only use dealer plates on vehicles included in the license. For example, a dealer who is only licensed to sell cars and light trucks may use a dealer plate only on a car or light truck in the dealer's inventory and not on a motorcycle or trailer.
The department also issues metal plates to other license holders including manufacturers, converters and in-transit operators.
Only one metal dealer plate is required per vehicle and is displayed in the rear license plate holder. The plate expires when the license expires. During the license renewal process, the license holder has the option to order new plates and renew existing metal plates, and the department will issue new year stickers to the renewed plates.
Plate Return Requirements
License holders must cancel plates that are lost, stolen, damaged, or no longer needed in eLICENSING. From the home page, select Plates and Stickers and follow the prompts. License holders should also report stolen plates to local law enforcement.
Damaged or no longer needed plates are to be returned to the closest Regional Service Center or to the TXDMV headquarters.