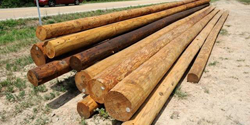 TxDMV issues annual utility pole permits for vehicles used exclusively for the transportation of poles required for the maintenance of electric power transmission and distribution of lines. Maximum vehicle dimensions may be up to 75' long and may not exceed other Texas legal size and weight limits.
NOTE: You must verify the size and weight limits needed BEFORE seeking a special permit.
Operating Authority Requirements
During the permit application process, you must provide your USDOT Number. TxDMV will check the number against the Federal Motor Carrier Safety Administration (FMCSA) system, MCMIS, for any out-of-service orders prior to permit issuance. The permit will be issued to the company name as it is listed for the USDOT Number.
If you are not required to have a USDOT Number, you must have a Permit Surety Bond in the amount of $10,000 on file with TxDMV.
Additional Requirements
The following lighting must be displayed at all times:
Two red lamps visible at a distance of at least 500 feet from the rear
Two red reflectors that indicate the maximum width and are visible, when light is insufficient or atmospheric conditions are unfavorable, at all distances from 100 to 600 feet from the rear when directly in front of lawful lower beams of light
Two red lamps, one on each side, that indicate the maximum overhang and are visible at a distance of at least 500 feet from the side
You are responsible for routing and obtaining current restrictions prior to movement. Active time permit holders may use TxPROS to generate free routes for loads moving under their time permit.
You may also:
Payment information must be provided with the permit application.
Fees & Payment Information
The annual permit fee is $120. Fees are payable by:
MasterCard, VISA, Discover or American Express (a service charge of 25 cents per permit plus 2.25 percent will be added.)
Automated Clearing House (ACH) – Electronic Check (only accepted when ordering online through TxPROS)
Personal check, business check, cashier's check or money order, payable to the Texas Department of Motor Vehicles
Cash (MUST be delivered to a TxDMV Regional Service Center)
A permit fee will not be refunded after the permit number has been issued unless such refund is necessary to correct an error made by the Motor Carrier Division.
More Information
Night movement will be allowed for emergency movement by utility companies only to restore power. A rear escort is required for emergency night movement by utility companies.
Review your permit for specific curfews and conditions that apply to your load and movement.