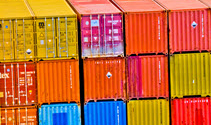 TxDMV issues an annual permit for the transport of intermodal shipping containers, transported in Bowie County on US71/US59 from the Arkansas state border to the eastbound entrance ramp for IH49, which do not exceed legal size limits. This permit is an annual permit that expires one year from the "movement to begin" date.
The truck-tractor and semitrailer combination must have six axles and must have:
Approx. 647 inches between the front axle of the truck-tractor and the last axle of the semitrailer
51 to 52 inches between the axles in the truck-tractor two-axle group
60 inches between the axles in the semi-trailer three-axle group
The gross weight may not exceed 93,000 pounds. Axle weight limits are:
Truck-tractor single axle – 13,000 pounds
Truck-tractor two-axle group – 18,500 pounds per axle
Semitrailer three-axle group – 16,400 pounds per axle
An intermodal shipping container is an enclosed, standardized, reusable container used to pack, ship, move, or transport cargo. The container must be transferred to/from a ship, vessel, or a rail system for international transportation without unloading or reloading the cargo.
NOTE: You must verify the size and weight limits needed BEFORE seeking a special permit.
Operating Authority Requirements
During the permit application process, you must provide your USDOT Number. TxDMV will check the number against the Federal Motor Carrier Safety Administration (FMCSA) system, MCMIS, for any out-of-service orders prior to permit issuance. The permit will be issued to the company name as it is listed for the USDOT Number.
Additional Requirements
Container must be continuously sealed from the point of origin to the point of destination with a seal that is required by U.S. Customs and Border Protection, the U.S. Food and Drug Administration, or federal law or regulation.
The vehicle combination must be equipped with a roll stability support safety system and blind spot support systems.
You may not operate your vehicle on a load-posted road or bridge if the gross weight of the vehicle combination and load, or the axles and wheel loads, are greater than the established and posted limits.
You are responsible for routing and obtaining current restrictions prior to movement.
Payment information must be provided with the permit application.
Fees & Payment Information
The annual permit fee is $1,000. Fees are payable by:
MasterCard, VISA, Discover or American Express (a service charge of 25 cents per permit plus 2.25 percent will be added.)
Automated Clearing House (ACH) – Electronic Check (only accepted when ordering online through TxPROS)
Cash (MUST be delivered to a TxDMV Regional Service Center)
A permit fee will not be refunded after the permit number has been issued unless such refund is necessary to correct an error made by the TxDMV.
More Information
Permit may not be amended.
This permit does not authorize the transport of a material designated as of Jan. 1, 2017, as a hazardous material by the U.S. Secretary of Transportation under 49 U.S.C. Section 5103(a).
A copy of the president's emergency declaration must be carried with the permit.
Review your permit for specific curfews and conditions that apply to your load and movement.