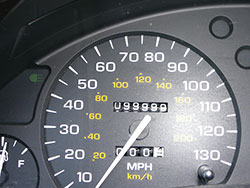 An odometer reading is reported as either the true or not true mileage for the vehicle.
Odometer brands on vehicle titles may show up when at some point the vehicle's odometer reading is known or suspected to not be the vehicle's true mileage, due to tampering.
The Texas Department of Motor Vehicles provides the information below and in the following document to enable motorists to learn more about odometer fraud and what to watch for when purchasing a vehicle.