Annual Water Well Drilling Machinery and Equipment Permits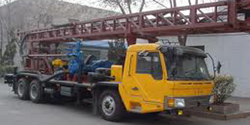 TxDMV issues an annual permit for the movement of water well drilling machinery and related equipment that cannot be reasonably dismantled. This permit is an annual permit that expires one year from the effective date.

Oversize or overweight water well drilling machinery and equipment operating under this permit may not exceed:
Maximum Width - 16'
Maximum Height – 14'6"
Maximum Length - 110'
Maximum Weight – maximum allowable permit weights
Note: Machinery and equipment moving under this permit may only travel on the state highway system.
More Information
General escort and equipment requirements apply to both permitted vehicles and escort vehicles.
A permit may not be transferred between vehicles or permittees.
Review your permit for specific curfews and conditions that apply to your load and movement.