Annual Utility Pole Permits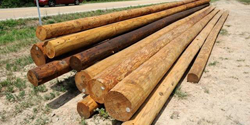 TxDMV issues annual utility pole permits for vehicles used exclusively for the transportation of poles required for the maintenance of electric power transmission and distribution of lines. Maximum vehicle dimensions may be up to 75' long and may not exceed other Texas legal size and weight limits.
More Information
Night movement will be allowed for emergency movement by utility companies only to restore power. A rear escort is required for emergency night movement by utility companies.
Review your permit for specific curfews and conditions that apply to your load and movement.