Annual Rig-Up Truck Permits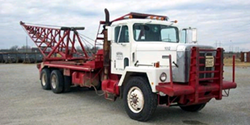 TxDMV issues an annual permit for the movement of rig-up trucks on state-maintained roads. This permit is an annual permit that expires one year from the effective date.


Units operating under this permit may not exceed:
Height – Legal
Length - Legal
Weight – 25,000 pounds or 850 pounds per inch of tire width on the steer axle(s), whichever is less. All other axles must be legal weight.
More Information
General escort and equipment requirements apply to both permitted and escort vehicles.
Night movement is allowed provided the width does not exceed nine feet.
Permit may not be amended.
Review your permit for specific curfews and conditions that apply to your load and movement.