Annual Crane Permits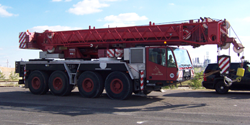 TxDMV issues an annual permit for mobile cranes exceeding legal width and weight limits. This permit is an annual permit that expires one year from the "movement to begin" date.


Cranes operating under this permit may not exceed:
Dimensions
Width – 10'
Height – Legal
Length – Legal
Weight
650 pounds per inch of tire width
120,000 pounds gross weight
25,000 pounds single axle
46,000 pounds tandem axle group
60,000 pounds 3-axle group
70,000 pounds 4-axle group
81,400 pounds 5-axle group
More Information
General escort and equipment requirements apply to both permitted vehicles and escort vehicles.
Cranes, moving with this permit, that are 9' wide or less, 14' high or less and 65' long or less are allowed 24-hour movement.
Cranes moving with this permit that are 10' 6" wide or less, 14' high or less and 95' long or less are allowed night movement with front and rear escorts.
Permit may not be amended.
Review your permit for specific curfews and conditions that apply to your load and movement.