Annual Manufactured Housing Permits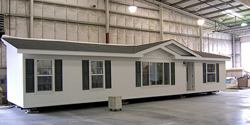 TxDMV issues an annual permit for the movement of newly manufactured homes that exceed Texas legal size limits from a manufacturing facility to a temporary storage location, not to exceed 20 miles from the point of manufacture.
This permit is an annual permit that expires one year from the effective date.
More Information
You must comply with escort and vehicle requirements applicable to the manufactured housing.
You may not transport manufactured housing on the following holidays: New Year's Day, Memorial Day, Independence Day, Labor Day, Thanksgiving Day and Christmas Day.
You must obtain a general single-trip permit to haul a stack of manufactured housing frames.
Manufactured housing exceeding legal gross, axle or axle group weights must obtain a general single-trip permit.
A permit may not be transferred between permittees.
Review your permit for specific curfews and conditions that apply to your load and movement.
A copy of the permit must be carried in the vehicle transporting a manufactured home.
Escort and Equipment Requirements