Outreach and Training
TxDMV offers a variety of training options to help Motor Carriers, shippers, brokers and freight forwarders get up to speed to conduct business in Texas.
Commercial Fleet Accounts Management
TxDMV offers a customer-focused approach to account management for Texas motor carriers and owners of large fleets of commercial vehicles. Dedicated account management services designed to keep your business moving include:
Dedicated account specialists
Customized compliance plans
Personal assistance with TxIRP or Multi-Year Fleet Registration
Market-based solutions to registration
A liaison between the customer and governmental agencies
For assistance in determining how our account management program can help you, send us an email to This email address is being protected from spambots. You need JavaScript enabled to view it. or call (800) 299-1700, Option 5-2.
IRP Compliance Training
TxDMV offers apportioned registration record-keeping requirements training. Our staff can review your business processes and offer guidance to improve internal controls. Our goal is to promote self-reliance and compliance.
We provide:
Free, on-site training at your preferred location (at owner's request)
Customized training to meet your company's needs
A three-year grace period from IRP audits and examinations
Email This email address is being protected from spambots. You need JavaScript enabled to view it. or call us at (800) 299-1700, Option 5-1. to schedule an on-site visit.
Mover Training Seminar
The TxDMV offers training seminar to help moving companies understand the rules and regulations that govern their businesses. Seminars are held once a quarter throughout the State of Texas. Sessions are four-hours long and focus on: Registration, Advertising, Required Vehicle Markings for Movers, Proposals/Contract and Claims Handling.
Click on the following link to see when the next Training Seminar is and sign up.
Need Help With TxPROS?
TxDMV offers several resources to assist you in using TxPROS to order your permits. The TxPROS Quick Start Guide and TxPROS User Guide are a good place to start. Several tutorial videos can assist you with features available in TxPROS.
TxDMV also offers training classes. A one-day-long training class on how to use TxPROS is offered in Austin. For more information or to sign up, send us an email at This email address is being protected from spambots. You need JavaScript enabled to view it..
TxPROS - Quick Start Guide
Texas Size and Weight Limits
Texas has established size and weight limits for vehicles and loads moving with or without an oversize and/or overweight permit on Texas roadways and bridges.
Width is measured from the outside points of the widest extremities, excluding safety devices.
Height is measured from the roadbed to the highest point of the load or vehicle, whichever is higher.
Length is measured from the foremost point of the vehicle or load, whichever extends further, to the rearmost point of the vehicle or load, whichever extends further.
Weight includes the weight of the vehicle or combination, plus the weight of the load being transported.
More Information
TxPROS Information and Tutorials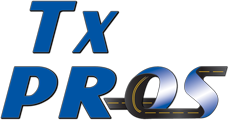 The Texas Permitting & Routing Optimization System (TxPROS) is an online permitting and GIS-based mapping system that allows customers to apply for and self issue many permits. It modernizes the routing and permitting of oversize and overweight loads and provides real-time restriction management.
TxPROS allows you to manage your company's account information. You are encouraged to "clean-up" your account in TxPROS when you first access the new system. Please add missing information and update addresses, phone numbers and email addresses. Adding an email address to your account will allow TxDMV to send you important information related to oversize/overweight permits and the motor carrier industry.
Using TxPROS

A username and password is required to log in to TxPROS. Our former Central Permit System (CPS) is retired but you can access TxPROS using your CPS login and password. If you don't have an account set-up, simply click Create a New Company Account on the TxPROS home page.
Need Help with TxPROS?
TxDMV offers several resources to assist you in using TxPROS to order your permits. The TxPROS Quick Start Guide and TxPROS User Guide are a good place to start. We have also developed several tutorial videos to assist you with the various features available in TxPROS. TxDMV also offers live Webinar training classes. The free, online classes are offered one to two times per month. For more information or to sign up, send us an email at This email address is being protected from spambots. You need JavaScript enabled to view it..
More Information
TxPROS delivers several benefits to oversize and overweight load permit customers, including the following:
Increased route safety
Faster permit issuance
Self-issue capabilities
Turn-by-turn directions
Designed in cooperation between TxDMV and the motor carrier industry, TxPROS comes with the following features:
Permit Wizard - An optional tool to help customers understand which permit may be best for their move. It will make permit recommendations based on answers to a series of questions regarding load type, size and weight.
Customer Dashboard - This tool will include current permit application status, messages from TxDMV, customer statistics and links to various functions. Functions will include company data, yards, account user set up, vehicle inventory, escrow and report generation.
Compliance Programs for Oversize/Overweight Vehicles and Loads
Texas roadways and bridges are engineered and constructed to withstand usage within certain size and weight limitations. When these limitations are exceeded, structural damage, excessive road-wear, and road hazards can result. To ensure the safety of the traveling public and to extend the life-cycle of our roadways and structures, restrictions are placed on oversize/overweight loads. When loads exceeding legal size and weight restrictions cannot be reasonably dismantled for shipment, permits should be obtained to allow for their transport over state roadways.
TxDMV is responsible for regulating the transport of oversize/overweight vehicles and loads on Texas public highways by issuing permits and enforcing related vehicle size and weight laws. These activities help maintain public safety and protect the integrity of Texas' highways and bridges.
Enforcement Program
The oversize/overweight enforcement program was developed and implemented to meet statutory requirements and to support TxDMV goals. We will use the following approaches to enforce oversize/overweight rules and regulations:
Education – to encourage openness/cooperation between the industry and TxDMV
Personnel will attend and conduct educational presentations at industry trade shows, meetings, and seminars in an effort to keep motor carriers and shippers well-informed of changes in enforcement and to encourage an atmosphere of openness and cooperation among the industry and TxDMV.
Notices concerning changes in guidelines, regulations, and other important information will also be provided on TxDMV's website, by e-mail, and/or postal mailings.
Staff will conduct and attend conferences with other TxDMV workgroups, local and state agencies, and government organizations to provide information and ensure cooperation in the enforcement of size and weight rules and regulations.
Monitoring – to ensure compliance with the Transportation Code
An online complaint management system is available to encourage involvement by the public and other organizations in reporting size and weight violations.
Personnel will conduct complaint-driven and routine inspections to ensure carriers and shippers comply with the rules and regulations that govern oversize/overweight vehicles and loads.
Investigations will consist of interviews, physical inspections of vehicles, audits of company records, and examinations of any other relevant materials to ensure compliance.
Penalties – to enforce compliance with the Transportation Code
Carriers and shippers found to be in violation of Texas size and weight regulations can be subject to written warnings, administrative penalties, and/or revocation/denial of the motor carrier's certificate of registration and oversize/overweight permits.
Carriers and shippers found to be operating after a court-ordered injunction may be subject to additional sanctions as determined by the judge.
Compliance Goals
Increased compliance with oversize/overweight regulations will help meet TxDMV's goals to reduce congestion, enhance safety, expand economic opportunity, improve air quality, and increase the value of our transportation assets by producing incentives for shippers and carriers to comply with size and weight laws and, when required, to obtain oversize/overweight permits. Permitted loads are routed to help control their traffic flow on Texas' roadways, avoid high-traffic areas during peak periods, and ensure that loads do not hinder traffic or create safety hazards by damaging bridges and roadways. Additionally, ensuring compliance with rules and regulations helps create a more level playing field and expands economic opportunities for carriers operating in Texas.
As Texas continues to grow, more demands are placed upon its transportation system. Implementation of this enforcement program is a proactive step toward protecting the state's roadways from damage by illegal oversize/overweight loads. By implementing a compliance program that incorporates open communication, along with an effective education program, and active monitoring, TxDMV will help ensure compliance with oversize/overweight regulations, thus protecting the public, the transportation system, and transported loads.