eLICENSING

Motor vehicle dealers, salvage dealers, and industry licensees operating in Texas may now apply for, renew, or amend motor vehicle licenses online. The Texas Department of Motor Vehicles (TxDMV) replaced its paper-based licensing system with eLICENSING, an online self-service hub for all motor vehicle licensees and salvage dealers operating in Texas. The new system became available in March 2017.
eLICENSING provides many user benefits, including 24-hour access to licensing information, the elimination of paper processing, the ability to submit license applications and payments online, a guided application process facilitating faster approvals, and the ability to track the progress of submitted applications.
To receive email updates regarding eLICENSING, please visit www.TxDMV.gov/subscribe and check the box beside the Dealers and Manufacturers subscription topic.
Licensees must have a current email address on file to use eLICENSING and receive updates on its availability. For more information, email TxDMV at This email address is being protected from spambots. You need JavaScript enabled to view it. or call 1-888-DMV-GOTX (1-888-368-4689).
User Guides and Manuals
eLICENSING Quick Start Guides
eLICENSING User Guides
eLICENSING Forms
QuickView Videos
eLICENSING User Training: QuickView Videos
Short, single-topic user training videos for eLICENSING are provided below. More detailed topic coverage is provided in our in-depth videos.
In-Depth Videos
eLICENSING User Training: In-Depth Videos
Detailed topic coverage is provided in our in-depth videos below. Short, single-topic user training videos for eLICENSING are provided in our QuickView videos.
National Moving Fraud Conference
Millions of Americans move each year, and while most of these moves are made by legitimate, licensed moving companies, in recent years there has been an alarming increase in tragic household goods moving incidents involving criminal or "rogue" movers. The Texas Department of Motor Vehicles and FMCSA invite state and federal government regulators, law enforcement and moving industry representatives to meet and discuss strategies on how to identify and stop moving fraud. The two day agenda will include presentations by federal and state officials and industry partners, law enforcement's, consumers and others affected by moving fraud and interested in bringing this important issue to the attention of the moving public.
National Moving Fraud Conference – Schedule
This is a two-day event, co-hosted by the TxDMV and the FMCSA. Each day of presentations will provide an opportunity to hear from speakers on what constitutes moving fraud, recent scams used by rogue movers, strategies for combating moving fraud and case studies.
Registration
Seminars
Location
Registration
Information
April 5 and 6, 2016
Austin

Register

Flyer
Cancellation and Substitutions
Registrants cancelling at least 72 hours before the event can fax notice to the TxDMV at (512) 465-5652.
If you have registered, but are unable to attend, you may send another person in your place. The substitute should inform TxDMV staff at the time of seminar attendance.
Dealer License Plates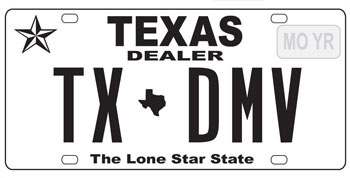 Franchised (new) and Independent (used) motor vehicle dealers are eligible to buy and use metal dealer plates. The number of dealer plates that may be purchased depends on the number of sales and license type.
Motor vehicle dealers may apply for metal dealer's license plates for all vehicle types the dealer is licensed to sell and may only use dealer plates on vehicles included in the license. For example, a dealer who is only licensed to sell cars and light trucks may use a dealer plate only on a car or light truck in the dealer's inventory and not on a motorcycle or trailer.
The department also issues metal plates to other license holders including manufacturers, converters and in-transit operators.
Only one metal dealer plate is required per vehicle and is displayed in the rear license plate holder. The plate expires when the license expires. During the license renewal process, the license holder has the option to order new plates and renew existing metal plates, and the department will issue new year stickers to the renewed plates.
Plate Return Requirements
License holders must cancel plates that are lost, stolen, damaged, or no longer needed in eLICENSING. From the home page, select Plates and Stickers and follow the prompts. License holders should also report stolen plates to local law enforcement.
Damaged or no longer needed plates are to be returned to the closest Regional Service Center or to the TXDMV headquarters.
Electronic Lien Titles
How do I obtain a paper title for a vehicle taken in trade when paying off a loan, if title is electronic?
When a dealer pays off a loan for a vehicle taken in trade with an e-Title, the lienholder has 10 business days after receipt of payment to release the lien. The lienholder sends an electronic transaction to TxDMV with the name and address of the dealer. TxDMV will remove the lien and mail the paper title to the dealer.
If I have a Dealer Title Application (DTA) vendor who provides my dealership with software, how will ELT affect me?
Each DTA vendor's software applications are different; contact your vendor for information on how ELT affects you.
How will ELT affect my business?
Download the revised Form 130-U and begin determining if your customer's lienholder is an ELT participant and prefers e-Titles.