Single-Trip Mileage Permits for Cranes and Well-Servicing Units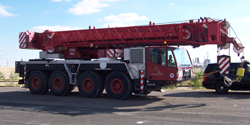 TxDMV issues a single-trip, mileage-based permit for the movement of self-propelled and trailer-mounted cranes as well as well-servicing units exceeding legal Texas size and weight limits. Single-trip mileage permits are valid for a maximum of seven consecutive days, from a specific point of origin to a specific ending point. A single-trip mileage permit allows the unit to return to the point of origin or other location on the same permit, provided the miles for the entire route are charged.

The maximum permit weight for any single axle may not exceed 30,000 pounds or 850 pounds per inch of tire width, whichever is less. Units may not exceed 850 pounds per inch of tire width for non-steerable units and 950 pounds per inch of tire width for steerable units.