Arkansas Intermodal Permits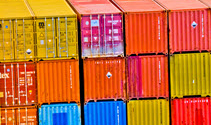 TxDMV issues an annual permit for the transport of intermodal shipping containers, transported in Texas within five miles of the Texas and Arkansas border, which do not exceed legal size limits. This permit is an annual permit that expires one year from the "movement to begin" date.

The truck-tractor and semitrailer combination must have six axles and must have:
Approx. 647 inches between the front axle of the truck-tractor and the last axle of the semitrailer,
51 to 52 inches between the axles in the truck-tractor two-axle group, and
60 inches between the axles in the semi-trailer three-axle group
The gross weight may not exceed 93,000 pounds. Axle weight limits are:
Truck-tractor single axle – 13,000 pounds
Truck-tractor two-axle group – 18,500 pounds per axle
Semitrailer three-axle group – 16,400 pounds per axle
An intermodal shipping container is an enclosed, standardized, reusable container used to pack, ship, move, or transport cargo. The container must be transferred to/from a ship, vessel, or a rail system for international transportation without unloading or reloading the cargo.
More Information
Permit may not be amended.
Permit is non-transferable.
This permit does not authorize the transport of a material designated as of Jan. 1, 2017, as a hazardous material by the U.S. Secretary of Transportation under 49 U.S.C. Section 5103(a).