Temporary Vehicle Registration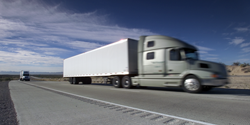 Temporary vehicle registration allows temporary movement of a vehicle under specific circumstances, including:
The vehicle is not registered.
The vehicle is properly registered in an IRP state without Texas listed.
The vehicle is registered in a state that does not have a reciprocity agreement with Texas.
The vehicle is registered in a state that has a prorate agreement with Texas, but the vehicle does not have a prorate sticker or registration cab card for Texas.
To increase weight, if the vehicle is not registered for its maximum allowable weight.
Three types of temporary registration permits are available to motor carriers: 72-hour, 144-hour and one-trip.

One-trip temporary registration is only available to unladen vehicles with a route that either begins or ends in Texas. This permit only allows the vehicle to travel from a single origin to a single destination point and is valid for 15 days.