Title Litigation
Disclaimer
The Texas Department of Motor Vehicles (TxDMV) provides the following information on title litigation as a public service. TxDMV believes this information to be accurate and reliable but we cannot promise it is always up-to-date and correct. TxDMV assumes no responsibility or liability for any errors in the information or for the use of the information provided. TxDMV is not providing this information as legal advice to address the circumstances of your case. The contents of this page are not rules or binding guidance of the TxDMV and cannot be used as such in a court or any other dispute with TxDMV. When in doubt about a specific case or requirement, you should consult with a lawyer.
If you have a question regarding a motor vehicle title, your local TxDMV Regional Service Center (RSC) should be your first stop – either in person or over the phone. Your local TxDMV RSC can tell you whether you qualify for a bond , whether a correction to the record is possible, or whether you may need a court order to revoke, rescind, reinstate, or issue a new record.
Temporary Permits
TxDMV issues temporary permits for private or commercial vehicles subject to Texas registration laws, but not authorized to travel on Texas highways due to the lack of registration or lack of reciprocity with the state or country in which the vehicle is registered.
TxDMV offers the following temporary permit types:
72-Hour, 144-Hour, One-Trip and 30-Day Permits
Transit Permit - if you buy a car or truck and the seller keeps the Texas license plates, the Transit Permit allows you to legally drive the vehicle home or to your local county tax office.
Rebuilt Vehicles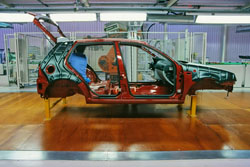 A rebuilt vehicle, also known as "prior salvage," means it was branded "salvage" but was rebuilt to road worthiness. A rebuilt vehicle must pass safety and anti-theft inspections, and other state-mandated standards in order to return to the road.
Rebuilt Title Brands
Your Texas title will include the "Rebuilt Salvage" brand.
| | |
| --- | --- |
| NMVTIS Brand | Description |
| Rebuilt | Vehicle was previously branded "salvage" but was rebuilt to road worthiness.. |
| Prior Owner Retained | Vehicle was previously branded "Owner Retained" and was sold. The new owner's title contains this brand. |
| Prior Non-Repairable / Repaired | Vehicle was constructed by repairing a vehicle that has been destroyed or declared to be non-repairable but has been issued a title pursuant to state law after falling within this criterion with this brand on the face of the certificate of title. |
Rebuilt Vehicle Buying Tips
When looking to purchase a used vehicle you might see one with a rebuilt title. The term "rebuilt" varies slightly from state-to-state, but is generally used to describe a salvaged vehicle that was repaired or restored. The vehicle previously carried a salvage title after it was damaged and considered totaled and inoperable. However, the vehicle was restored and title changed from salvage to rebuilt.
Considerations when looking at purchasing a rebuilt vehicle:
What was the extent of damage and where was the vehicle repaired? Some companies use damaged parts or cut and weld pieces together to create a replacement part.
Was the frame damaged and was the frame aligned properly? A misaligned frame can cause excessive wear and strain to the drive train, wheels, tires and brakes.
Was the vehicle examined and certified by an independent and qualified mechanic? Have an expert mechanic thoroughly inspect the vehicle. Rebuilt vehicles can cause problems that will cost more to repair than the actual value of the vehicle.
Can the vehicle be insured? Often rebuilt vehicles are denied insurance. Check with your insurance agent before purchasing the vehicle.
How much is the vehicle worth? The value of rebuilt vehicles vary. However, they will always be worth substantially less because they were salvage vehicles.
"Two Steps, One Sticker": Inspection & Registration Together at Last
As a result of House Bill 2305 passed during the 83rd legislative session, the State of Texas stopped issuing inspection stickers and transitioned to a "Two Steps, One Sticker" vehicle inspection and registration program. Since March 1, 2015, vehicles are no longer issued an inspection sticker. Your registration sticker serves as a combined proof of registration and inspection.
What's To Love "Two Steps, One Sticker"
One sticker, one date: Are you one of the millions of Texans whose inspection sticker and registration sticker expire in different months? With "Two Steps, One Sticker" you just have one sticker with one expiration date.
Less clutter, better view: Who wants multiple stickers in their view while behind the wheel? With "Two Steps, One Sticker" you just have the familiar blue-bordered registration sticker in the corner of your windshield.
Safer streets, cleaner air: Because a passing vehicle inspection is a requirement to renew your registration, more Texans will comply with the safety and emissions testing laws. So with "Two Steps, One Sticker" there will be safer and more environmentally-sound cars on the road.
Fraud prevention: With inspection stickers no longer needed under "Two Steps, One Sticker," this change will eliminate the risk of inspection sticker fraud and theft.
Who's At the Wheel
The Texas Department of Motor Vehicles (TxDMV): The TxDMV administers the state's vehicle registration program.
The Texas Department of Public Safety (DPS): The DPS administers the state's vehicle safety inspection program.
The Texas Commission on Environmental Quality (TCEQ): The TCEQ administers the state's vehicle emissions testing program.
Staying Informed on "Two Steps, One Sticker"
For more information, visit www.TwoStepsOneSticker.com
Water-Damaged Vehicles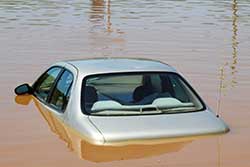 You can find out if the used vehicle you've been eying has ever been damaged by water or in a flood by going to Title Check and viewing the title history report. However, while you are out shopping, there are some signs or clues you can look for that may indicate the vehicle has water damage.
This category includes the following brands:
| | | |
| --- | --- | --- |
| NMVTIS Brand | Description | Texas Brand |
| Flood Damaged | The vehicle was damaged by freshwater flood or by flood of unknown origin. | Flood Damage |
| Salt Water Damaged | The vehicle was damaged by saltwater flood. | Flood Damage |
How to Spot a Water-Damaged Vehicle
The following inspection tips may help detect significant water damage on a vehicle:
Examine the interior and the engine compartment for evidence of water and grit from suspected submersion.
Check for recently shampooed carpet, and check under the floorboard carpet for water residue or stain marks from evaporated water not related to air-conditioning pan leaks.
Look for rusting on the inside of the car and under interior carpeting, and visually inspect all interior upholstery and door panels for evidence of fading.
Check under the dashboard for dried mud and residue, and note any evidence of mold or a musty odor in the upholstery, carpet or trunk.
Check for rust on screws in the console or other areas where water would normally not reach unless submerged.
Check for mud or grit in alternator crevices, behind wiring harnesses and around the small recesses of starter motors, power steering pumps and relays.
Complete a detailed inspection of the electrical wiring system, looking for rusted components, water residue or suspicious corrosion.
Inspect the undercarriage or other components for evidence of rust and flaking metal that would not normally be associated with late model vehicles.
While these inspection suggestions will not detect water damage in every case, they do provide some information to protect consumers from purchasing a vehicle damaged by water, such as flood. If you are considering purchasing a vehicle that you suspect may have been damaged by water, consider having it inspected by a licensed mechanic.