Annual Implements of Husbandry Permits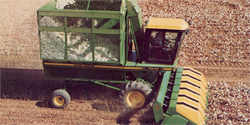 TxDMV issues an annual permit for transporting implements of husbandry exceeding Texas legal size and weight limits. This permit is an annual permit that expires one year from the "movement to begin" date.

Oversize or overweight implements of husbandry operating under this permit may not exceed:
Maximum Width - 16'
Maximum Height - 16'
Maximum Length - 110'
Maximum Weight – Max. allowable permit weights
Implements of husbandry include farm implements, machinery and tools, as used in tilling the soil, including self-propelled machinery specifically designed or adapted for applying plant food materials or agricultural chemicals, but not "designed or adapted for the sole purpose of transporting the materials or chemicals." Examples: subsoilers, dozers - provided they are for farm use: cultivators, farm tractors, reapers, binders, combines, cotton module builders, planters, discs, etc.
Implements of husbandry do not include automobiles, trucks or items used on the farm such as irrigation systems, silo, barns, etc.
Contact MCD at (800) 299-1700 for questions concerning eligibility.

Note: Implements of husbandry that are only overwidth are not required to have a permit, provided they do not travel more than 50 miles on an Interstate Highway System.
More Information
General escort and equipment requirements apply to both permitted vehicles and escort vehicles.
A permit may not be transferred between vehicles or permittees.
Review your permit for specific conditions that apply to your load and movement