Dealer License Plates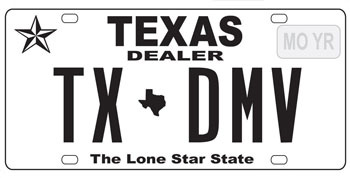 Franchise (new) and Independent (used) motor vehicle dealers are eligible to buy and use metal dealer plates. The number of dealer plates a dealer may purchase depends on the number of sales made by the dealer. The department also issues special metal plates to manufacturers, converters and in-transit operators.
Franchise and independent motor vehicle dealers may apply for metal dealer's license plates for the type of vehicles the dealer is licensed to sell. For example, a dealer who is licensed to sell only cars and light trucks may use its dealer plate only on a car or light truck in the dealer's inventory and not on a motorcycle or trailer the dealer may own.
In-Transit plates are issued by the department to licensed drive-a-way operators who transport vehicles from a manufacturer or other point of origin to a dealer.
Only one plate is issued for these types of plates and the plate is displayed in the rear license plate holder of the vehicle in most cases. The plate expires when the license expires. During the license renewal process, the licensee has the option to renewing their existing plates. If a plate is renewed, the department will issue a new year sticker to be affixed to the plate.