Salvage Dealer License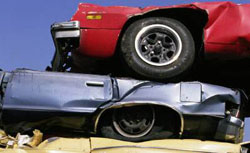 A salvage dealer is a person or company who:
acquires, sells, dismantles, repairs, rebuilds, reconstructs, or otherwise deals in nonrepairable motor vehicles, salvage motor vehicles, or used parts (if incidental to the person's primary business);
holds a salvage inventory number issued by the department and deals in the salvage vehicle industry (excluding metal recyclers).
You are required to be licensed as a salvage dealer if you:
sell more than five salvage or nonrepairable motor vehicles at casual sale in a calendar year; or
casually repairs, rebuilds, or reconstructs five or more salvage motor vehicles in the same calendar year.
Types of salvage licenses
New automobile dealer endorsement (1) - allows you to buy and sell salvage motor vehicles and non-repairable motor vehicles that have not been the subject of a retail sale. This license type is only applicable if you hold a franchise dealer license.
Used automobile dealer endorsement (2) - allows you to buy or sell salvage motor vehicles and non-repairable motor vehicles that have been the subject of a retail sale. The salvage dealer may rebuild, repair, or reconstruct no more than 5 salvage motor vehicles in a calendar year with this endorsement. The dealer may also sell those vehicles if he or she also holds a General Distinguishing Number (GDN) license.
Salvage vehicle pool operator endorsement (4) - allows you to engage in the business of selling non-repairable motor vehicles or salvage motor vehicles at auction, including wholesale auction, or otherwise.
Salvage vehicle broker endorsement (5) - This is issued by the department to a person, other than a salvage vehicle dealer, and allows the person to:
offer to sell or buy, or negotiate to sell or buy, salvage motor vehicles or non-repairable motor vehicles, owned by a license holder, and to be purchased or sold by another license holder; or
act as the agent or representative of a broker.
Salvage vehicle rebuilder endorsement (6) - allows you to acquire and repair, rebuild, or reconstruct, for operation on a public highway, more than five salvage motor vehicles in a calendar year. In order to sell these vehicles for operation, the dealer must also hold a General Distinguishing Number (GDN) license.
Note: Salvage dealers do not submit title paperwork to the county tax offices for retail purchasers.
MVD-438-A Salvage Vehicle Dealer License Application
MVD-437-A Salvage Vehicle Agent License Application
Adding an endorsement to an existing license: The new endorsement must expire at the same time as your existing license. Use the table below to calculate the pro-rated fee needed to add the new endorsement.
New Application
Your existing license expires in how many months?
Pay this fee to add each endorsement
1
$7.92
2
$15.83
3
$23.75
4
$31.67
5
$39.58
6
$47.50
7
$55.42
8
$63.33
9
$71.25
10
$79.17
11
$87.08
Further Salvage Information
If you need more information about being a salvage dealer, please call us at (888) 368-4689.
If you have questions regarding the titling of salvage vehicles, please call us at (512) 465-7400.
All salvage dealers are required under federal law to report their vehicle transactions by using the National Motor Vehicle Title Information System (NMVTIS). To increase awareness of the program, TxDMV collects the NMVTIS number from all Salvage Applicants. However, the Department of Justice is the enforcing agency for this program. For further information, please refer to the NMVTIS publication , or visit http://www.vehiclehistory.gov/
For questions regarding Used Auto Parts Recycler licensing, please visit the Texas Department of Licensing and Regulation's website or call toll-free (in Texas): (800) 803-9202 or locally: (512) 463-6599.